This year's International Women's Day theme is 'breaking the bias'. The theme is about working towards a diverse world, one free of stereotypes and discrimination, that is equitable and inclusive. IESC's Farmer-to-Farmer program (F2F) in Kenya is celebrating one of our hosts, the Emuka Moringa Farmers' Cooperative (EMFC) – a cooperative with a majority membership of women pastoralists and crop farmers, focused on growing moringa, which is marketed in Kenya as a nutritional supplement and medicinal herb.
Over time, the cooperative has embraced a two-thirds leadership rule in which two-thirds of the cooperative's leadership positions should be held by women in order to provide more opportunities for women in decision-making roles. Given pre-existing needs to focus on women's sustainable livelihoods, EMFC's embracing of diversity and gender equality could not be timelier: the cooperative is now focused not just on sustainable agriculture, but also on adopting rights-based frameworks including the Sustainable Development Goals (SDGs), particularly SDG 8 (Decent Work and Economic Growth) and SDG 5 (on achieving gender equality and empowering all women and girls). The F2F program has supported the cooperative by recruiting and fielding highly qualified volunteer experts to provide technical assistance to support the cooperative in adopting climate-resilient agriculture techniques. Over the past two years many F2F volunteers have supported the cooperative in this area.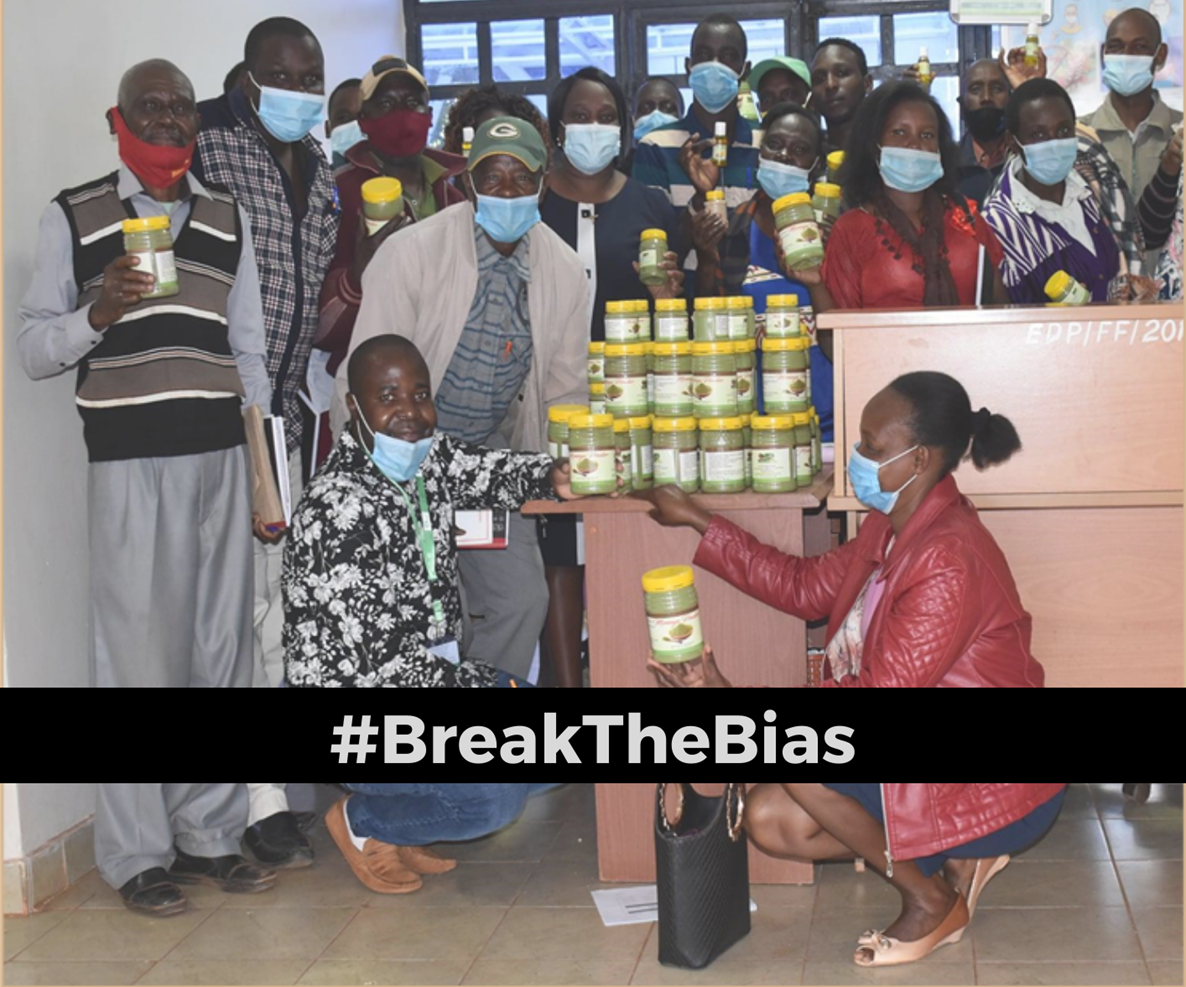 Founded in 2018, the Emuka Moringa Farmers' Cooperative (EMFC) is located in the lower Eastern part of Kenya, which is a semi-arid area, ideal conditions for growing moringa. EMFC has dedicated itself to the training and development of smallholder farming groups in the Emali region and has become an essential part of the local business community. In 2021, 80% of EMFC's members were women.
Hellen Kuthea Kitonga and Adrienne Pierce, two women volunteer experts, worked with the cooperative in mid-2021. Their goal was to create a resource mobilization strategy for EMFC. This strategy guided the cooperative on increasing its income and assets through expanding sales and mobilizing resources from the community, local corporations, county and national governments, and international donors. Adrienne created a pitch slide deck which the cooperative uses to recruit new funders. Hellen helped to create linkages with the county government and mapped out corporations that could potentially support EMFC. The volunteer pair worked with the EMFC board to conduct a SWOT/gap analysis, which informed further training of the EMFC board and the "training of trainers" (ToT) workshops. Based on the SWOT analysis findings, the training focused on ways to support the long-term sustainability of the organization, which included proactively setting goals on organizational growth, focusing on diversifying funding sources, and broadening fundraising and marketing efforts.
EMFC has increased smallholder farmers' incomes by endeavoring to offer a fair and consistent price for members' moringa harvests. Additionally, it works towards growing the local market and distribution channels for moringa, enabling access to labor-saving technology and providing training in best practices for moringa growing and processing. In mid-2021, EMFC was supporting 115 moringa producers. It set a goal to support more than 400 farmers and increase the number of moringa trees from 21,000 to 40,000 by the end of 2022. With this proposed growth, EMFC would be able to purchase all of the local farmers' moringa harvest at a fair price, process and sell the harvest with enough profit to finance the operations of the cooperative while building capital for investment, offer farmer credit, and hire local community members. Key actions towards this goal included raising $90,000 ($10M KSh) to invest in hiring a qualified coop manager, purchasing processing equipment, establishing an office and storage facility, and providing trainer transportation and payment. With the goal of creating partnerships in mind, together with EMFC's board, Kenyan volunteer expert Hellen visited Makueni County Executive Committee members, alongside the First Lady of The County Honorable Nazi Kibwana, and pitched the proposal using Hellen's slide deck. Hon. Nazi Kibwana agreed to serve as an ambassador for the cooperative and assist EMFC in obtaining other funding opportunities from the county.
Speaking on embracing women's leadership and diversity in the cooperative, Hellen noted, "I got to assist and train more than 130 farmers and Board members and ToTs, of which 70% were women. The number of women represented in the cooperative's leadership is just unique for a cooperative based within a pastoralist population that is typically highly masculine."
By the end of Hellen and Adrienne's volunteer assignment with EMFC, they had presented multiple recommendations to the cooperative on ways to improve its operations. They recommended that the cooperative purchase production equipment and automation machines in order to facilitate the expansion of their moringa powder and oil offerings. Hellen and Adrienne also advised that EMFC focus on creating a tailored brand and marketing strategy for its products, with a goal of securing shelf space in local stores and reaching a larger customer base.
Since the completion of their volunteer assignment, Hellen and Adrienne have completed follow-up check-ins with EMFC and noted the cooperative's tremendous growth. Notable improvements include the procurement and utilization of machines for making moringa powder and oil for commercial use which has increased production. It has also focused on more widespread marketing of moringa products, and have in turn expanded its customer base. EMFC members travel to Nairobi monthly to sell their products, and they also hosted an exhibition tent during the National Devolution Conference hosted by Makueni County in November 2021, which received widespread attention from stakeholders. The cooperative has gained attention from commercial and local farmers for its animal feed products, and many universities are visiting EMFC to study its medicinal products. This model has been so successful for EMFC that other groups are seeking to replicate it, by planting moringa seedlings and creating selling networks within their local communities. Most of the members of these groups are women, making a living from the sales and often times using these funds to support and educate their children.
The American people, through the U.S. Agency for International Development, have provided economic and humanitarian assistance worldwide for more than 50 years. The John Ogonowski and Doug Bereuter Farmer-to-Farmer Program (F2F) provides technical assistance from U.S. volunteers to farmers, farm groups, agribusinesses and other agriculture sector institutions in developing and transitional countries with the goal of promoting sustainable improvements in food security and agricultural processing, production and marketing.
https://iesc.org/wp-content/uploads/2022/03/F2F-IWD-2022-blog-post-Hellen-Adrienne-2.jpg
255
496
Erin Suarez
https://iesc.org/wp-content/uploads/2017/05/iesc-logo-1.png
Erin Suarez
2022-03-10 14:25:31
2022-03-10 14:31:42
Celebrating International Women's Day 2022