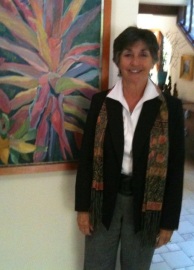 Volunteer Donna Howard
The Armenians are extremely hospitable. Their phrase for hospitality is "to love our guest." At every NGO I visited, I was offered tea or coffee, and I usually accept tea. Tea is a ritual in Armenia, which, I realize now, includes a nice cloth or scarf placed on the table, the loveliest cups or glasses one has, and a plate of cookies or candy at the most humble of locations. No Styrofoam cups! Quite a civilized custom.
Once, on the way to dinner, I joined another volunteer as she picked up her boots from a cobbler, whose shop was barely five by five feet…a shed…in the back of one of the apartment buildings. The cobbler invited us to join him in his extremely humble shop for coffee. Being the adventurers, which got us into this dark alley in Armenia in the first place, we accepted his invitation.
From under the disorderly and dingy counter piled with shoes, he pulled out two exquisite china demitasses, a plastic jug of water, an interesting coffee pot with a long straight handle, coffee and a small heater. He talked to us in Armenian and Russian as he prepared the delicious thick Armenian coffee for us. He also presented us with some apricot jam that his wife had made. We spent pleasant 30 minutes "discussing" where we were from and why we were there. At least this is what I think we discussed! So I ask you, 'When was the last time your cobbler offered to make you a cup of coffee with homemade apricot jam"
That is Armenia folks!
– Donna Howard, IESC Volunteer
https://iesc.org/wp-content/uploads/2017/05/iesc-logo-1.png
0
0
https://iesc.org/wp-content/uploads/2017/05/iesc-logo-1.png
2014-01-06 19:19:36
2017-08-23 06:02:07
Barev Dzez!